Character Costumes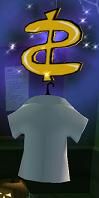 Clothing Store in Level 7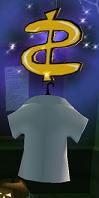 "Whenever you see this icon, you know you could buy new clothes. Don't worry, they have size 48 pants with a balloon seat for gluttonous slobs like yourself."
Character Costumes refers to a series of clothing collectable items that the player can buy and dress the playable character in whilst playing any of the levels of the game. There are normally three outfits to buy per level which are references to events in the television series. These clothes are not bought from a person but a floating "$" sign with a white shirt. There are only two locations on each map where the clothes can be bought from, or three if playing on levels 4 & 7.
In certain levels, players need to purchase a specific set of clothing in order to progress in a mission.The player also needs to buy all the different clothes in order to get a 100% complete on that levels Level progress screen.
The Costumes
[
]
Locations
[
]
The clothes locations per level:
Music
[
]
---